THE UPSIDEDOWN, Portland Oregon USA
Portland, Oregon's The Upsidedown, is a critically acclaimed rock band called "dreamy and decadent in all the right places" by The Boston Globe. The band released their debut album, Trust Electricity, in 2004. The album received national attention, and the band has been noted in several newspapers and magazines as an up-and-coming band to watch and a must see when in town, including Magnet, The Boston Globe, and The Oregonian. Their follow up album, Human Destination is featured on radio and television programs including True Blood, Sons of Anarchy, The Vampire Diaries, Life Unexpected, What About Brian, Ray Donovan and Trauma among many others.

Their third studio album was also critically acclaimed and features Peter Buck (R.E.M) and members of The Dandy Warhols and Brian Jonestown Massacre.
ALBUMS
Trust Electricity Remaster, Double Silver Vinyl 2020
Human Destination Remaster Vinyl 2016
The Town with Bad Wiring (Reverb Records) 2012
Live From Nowhere Near You 2011
Human Destination (Beat the World Records) 2009
NW Shoegazer Bliss-CD Compilation 2008
MusicfestNW-CD Compilation 2007
All in the Mind-CD Compilation 2006
In a Different Place-CD Compilation 2005
Trust Electricity (Reverb Records) 2004
TELEVISION (PARTIAL LIST)
True Blood (HBO) "Wolf Blood Honey" S3 E4
Sons on Anarchy (FX) "If you are Hell Girl" S2 E2
Ray Donovan (Showtime) "If You Are Hell Girl" S2 E2
The Vampire Diaries (CW) "Pepper Spray" S1 E11
Californication (Showtime) "Elizabeth" S4 E8
The Resident (Fox) "Pepper Spray" S3
Blue Mountain State (Spike)"If You Are Hell Girl" S2 E8
Men in Trees (ABC) "Blackeye Liner" S2 E14
Animal Kingdom (TNT) "Black Rainbow" S2 E8
Life Unexpected (CW) "Blackeye Liner" S1 E3
Life Unexpected (CW) "Number 29" S1 E5
Life Unexpected (CW) "Airplane Eyes" S1 E4
Life Unexpected (CW) "Pepper Spray" S1 E4
What About Brian (ABC) "Elizabeth"
Greek (ABC) "Pepper Spray" S3 E12
Trauma (NBC) "Kissing the Angels Shoes" S1 E11
Trauma (NBC) "If You Are Hell Girl" S1
Trauma (NBC) "Umbrella" S1
Trauma (NBC) "Silver Wind" S1
Trauma (NBC) "Halo" S1
Damages (FX) "Halo" S3 E2
Fast Inc. (MTV) "Elizabeth" S1 E3
Caveman (ABC) "Wake up Drive Thru" S1

Childhood friends Jsun Atoms (vocals, guitar, keys, formerly of The Bella Low) and Brett Kron (guitar, keyboards, vocals) had been involved in the Portland music scene since the mid-90s and had always talked about playing together, but it wasn't until 2003 that they seriously decided to start a band. Finding a cross-national group of transplanted musicians – Matt Moore (guitars, vocals, accordion, harp) and Bob Graham Mild (drums) from Missouri, Tristan Evans (bass, vocals) from Kansas City, KS, and Sarah Jane (keys, vocals, tambourine, ex-The Out Crowd) from San Francisco – the six-piece soon began making a name for itself in the Northwest.
The press took notice: The Portland Mercury called them a "diligent band that's been around the Portland block" and "paid their dues," Magnet named them a "band to watch," and they were featured on the 2007 compilation Musicfest NW Vol. 2,along with artists as Spoon, The Thermals, Aesop Rock, and Deerhunter.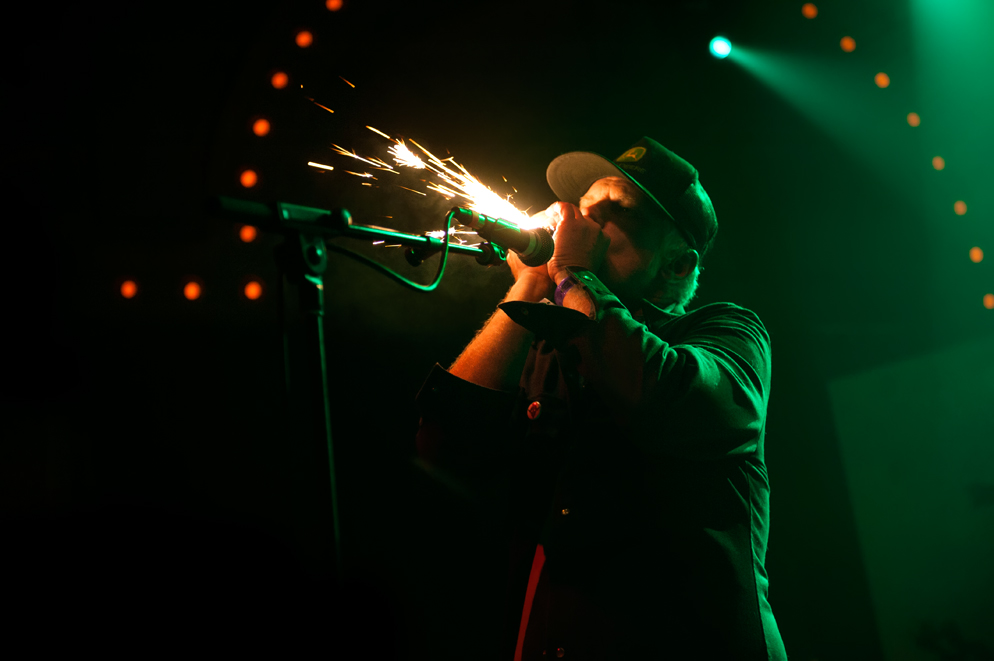 With Human Destination, their second full-length, the group is able to truly push, even surpass, the boundaries normally imposed by time and money. At the Odditorium, The Upsidedown found an environment conducive to making a complete, fully engaged record, playful and smart and as energetic as their celebrated live show.
Following Human Destination was the critically acclaimed "The Town with Bad Wiring" featuring a "who's who" of the the Portland alt-rock scene.